Bold Style.
Explosive Flavor.
ABOUT US
Set in the popular Old Market District, Dynamite Woodfire Grill offers a vibrant dining experience far from its no-frills competition. With a focus on the flavors of smoked dishes over an open flame, our menu is sure to spark your interest. Discover a new twist on classic wood-fired and smoked dishes at The Farnam's newest addition to the Old Market.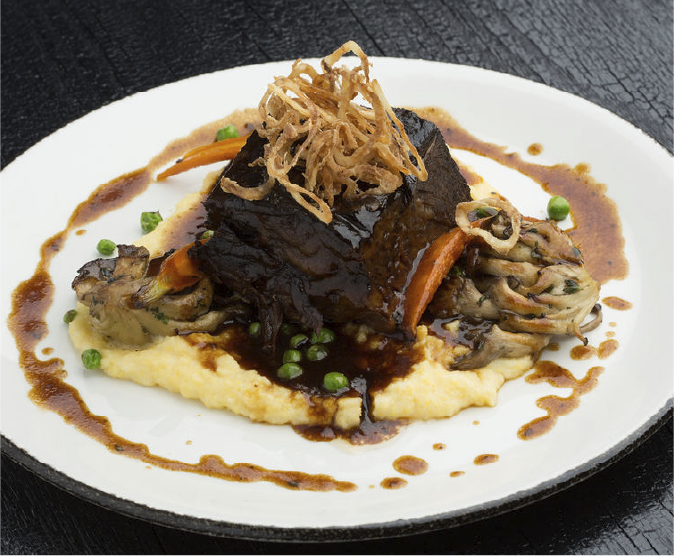 Braised Beef Short Rib
Braised Beef Short Rib, Polenta, Roasted Heirloom Carrots, Sweet Peas, Chanterelles, Lemon Gremolata
Reuben Croquettes
Corn Beef, Kraut, Cream Cheese, Pickled Red Onion, Mustard Seeds, 1000 Island Aioli
Smoked Day Boat Scallops
Smoked Day Boat Sea Scallops, Asparagus, Vanilla Bean Butter Sauce, Chili Oil, Cauliflower Puree
OUR COMMITMENT TO RESPONSIBLE, THOUGHTFUL AND SUSTAINABLE PRODUCTS
Dynamite is committed to utilizing suppliers who embrace thoughtful, responsible, and sustainable practices in supplying fresh and high-quality food to our patrons.  We realize this commitment in many ways.  We prioritize anglers, fish farmers, ranchers, farmers, and producers who are local or those who embrace natural, humane and sustainable practices.  We monitor seafood watch lists from the Monterey Bay Aquarium and the Shedd Aquarium for fish choices that are "best choices" for healthy oceans, aiming to procure only line caught and sustainably farm raised seafood from our vendors.  We pledge to align with and support artisan producers and purveyors who share in our dedication to natural and sustainable farming practices and to raising animals humanely and free of hormones and antibiotics.  Our pledge is to offer the highest quality food available, responsibly raised, thoughtfully sourced.